Mittels Entscheidungswürfeln kann man fast schon Geschichten erzählen, z. B. so..
You can tell stories by using decision dice, e.g.
Die Abenteurer gehen gen Norden in einen tiefen, dunklen Wald
The adventurers are going northwards into a deep dark forest
.

und begegnen dort einem kleinen, stinkenden Zwerg.
and meeting a little stinky dwarf.



Seine Kleidung besteht aus altem, rissigen Leder und seine einzige Waffe ist eine große Axt.
His clothes are made up of old flawed leather and his only weapon is a big axe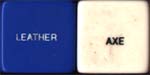 Er ist recht groß (für einen Zwerg), sieht aus wie ein Freund und redet mit der Gruppe in einem freundlichen Ton.
He is huge (for a dwarf), looks like a friend and is talking to them in a friendly way.



Trotzdem greift einer der Abenteurer zu seiner Waffe. Leider rutscht er dabei auf dem feuchten Waldboden aus.
One of the adventurers is although taking his weapon. He's unfortunatelly slipping on the moist forest ground.



Im darauf folgenden Handgemenge verletzt der Zwerg den Ausgerutschten am Arm.
The dwarf is injuring the slipped men at the arm in the following scuffle.



Die Abenteurer verletzen den Zwerg hauptsächlich am Oberkörper.
The adventurers are injuring the dwarf basically at the upper part of the body.



Doch mutig, wie er ist, leister er Widerstand verletzt er zwei Angreifer noch an Kopf und Bein.
The brave dwarf is resisting and injuring two agressors at the head and leg.



Hach, ich mag solche 'Gemetzel' ;-)
YES, i like those 'slaughters'! ;-)
Nach dem Kampf stellt sich heraus, daß der weise Zwerg neutral gegenüber den Abenteurern eingestellt ist.
After the fight the adventurers find out that the wise dwarf has a neutral attitude to the adventurers.